Summary of Yachuang Electronics Annual Meeting
Date:2019-01-07 Hits:62
The dog protects thousands of auspicious days to go, and the pig runs to the clouds! Farewell to the unforgettable 2018 and usher in a new 2019. On January 5, 2019, Yachuang Technology Co., Ltd.. welcomed the New Year's Conference in the conference hall of Hilton Peng Hotel.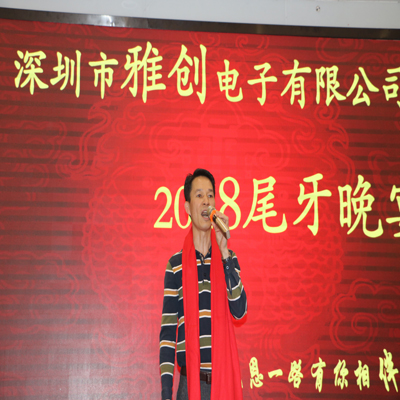 The Conference opened in the wonderful and sincere New Year's speech of General Manager Tu. At this annual meeting, Yachuang Technology Co., Ltd. staff carried out singing and dancing, sketches, and other literary and artistic performances, and exciting lottery activities made the whole Party climax. The chorus "Tomorrow will be better" has brought you a wonderful start, expressing the best wishes of Yachuang Technology Co., Ltd. staff for the company tomorrow. The "Money Dance" performed by the company's business department was a full-time HIGH show. The staff solo in the course of the show made people feel the lingering sound. Six lottery activities pushed the atmosphere of the annual meeting to a climax.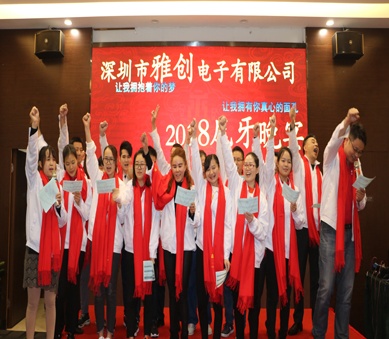 At the New Year's dinner, all the staff raised their glasses to celebrate the new year and wished Yachuang Technology Co., Ltd. Company a better tomorrow.
The annual meeting successfully concluded in a harmonious, warm, passionate and joyful atmosphere, showing the energetic, positive, united and enterprising spirit of the gathering staff. Looking back on 2018, we will work together to achieve common results. Looking forward to 2019, we have the same goals and full confidence, and look forward to the future of Yachuang Technology Co., Ltd. will be more brilliant.
Yachuang Technology Co., Ltd. is a company specializing in the development, design, manufacture and sale of USB2.0 data lines, USB 3.0 data lines, Type C data lines, network lines, data lines and other connection lines. It has a complete and scientific quality management system, which has passed the certification of ISO9001 international quality management system; National Consulting Hotline: 86-755-88210101-3, you can also click on the online consultation details. :